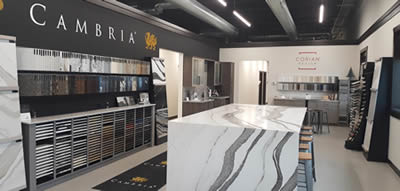 Residential
At St. Germain's Cabinet, Inc. – Supreme Counters, our products are truly custom made and tailored to meet your needs.
From flooring thresholds, window sills, shower shelves and benches to our full line of custom countertops St. Germain's has the materials for your next kitchen or bathroom project.
Visit our Showroom to view samples of all the countertop products we carry--from Cambria and Silestone, to Corian, Formica, and Wilsonart. Additionally, we also carry laminates, solid surfaces and butcher block. Our staff will be more than happy to assist you with all of your questions. With so many different product lines to choose from, you are sure to find exactly what you are looking for!
Showroom hours are:
Monday through Friday from 7:30am to 4:30pm.
**For the Brainerd showroom, please schedule an appointment.**
Stop and visit us today!
St. Germain's works with a network of partner-dealers in the kitchen and bathroom design community that not only understand our products, but all facets of the kitchen and bathroom industry.
Contact St. Germain's for partner-dealers in your area, or CLICK HERE. These companies can assist you with all your residential design needs.